Hello to all dedicated members.
As the owner of Yamaha Xj6 from 2105-2019, I have now updated to an almost new Fz8...
I have been seeking hole Europe for a Fz8 Fazer colcor white, and after a year I decided to buy one i Switzerland.
Not the most profitable country to trade in as they are not in the EU, but in need.
This meant that I had to pay tax and VAT on the purchase price, then import duty is paid..
BUT I AM SO HAPPY.
The bike is from 2017, with only 3300 km.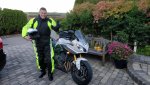 I look forward to a new season 2020.